ROYAL PET PORTRAITS
Our best artists turns your beloved pet into a Royal masterpiece. Every pet portrait is unique because we show the personal character of your pet by portraying him with his favorite toys.
Royal Pet Portrait in Three Easy Steps
Are you ready to get a lot of fun unwrapping one-of-a-kind Royal Pet Portrait? Can you imagine your furry friend as a Royal Personality?
1. Unleash your pet's personality!
Begin by choosing your favorite costume from our Art gallery for your future pet portrait. We have a variety of both male and female costumes. There are even coordinating costumes for pet portraits featuring more than one pet.
Choose costume
2. Find your pet's best angle!
Upload a photo of your dog, cat, or any other pet using our photo guidelines. Then select a toy from the list to really capture their playful spirit. Each costume has its own designated toy that best complements the image. If you want your pet to be depicted with his own favorite toy, upload a photo of the toy and pet's paws. We also offer the option without a toy.
start customizing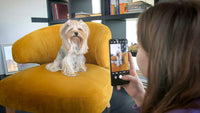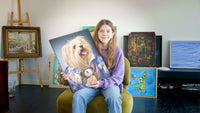 3. Go Big or Go Small? Either way, this portrait is going home!
Next on the list is selecting the size of your canvas. Once you've decided on how big of an impact you want your portrait to make on your available wall space, finish up by submitting your order. There, you've just made a gift that any pet owner will find purr-fectly delightful.
Shop now
Sit Back and Relax, We Got This!
Now your order is submitted and our artists are already hard at work creating your own personal masterpiece.
Once your furry buddy has been rendered in royal splendor, you will receive a tracking number that will allow you to follow the parcel's path to your home. Most packages are received less than two weeks after the order is placed. You can get acquainted with the terms and cost of delivery in the Shipping and Delivery section.
FOR THE PET PARENT WHO HAS EVERYTHING
Now is a chance to wow with something truly original. A museum-worthy pet portrait painting, hand-crafted by our talented digital artists which is based on the photo you send us. Immortalize your furry family member with a custom piece of artwork for your home wall.
Testimonials
Excellent quality work. They made sure the image was good enough - the first wasn't so I sent additional images. The canvas came out beautifully! Our daughter was so tickled by it. Thank you!

⭐⭐⭐⭐⭐

Keely Tolbert
Fantastic! The process was straightforward and easy, no problems with delivery, and my Royal Pet Pawtrait is AMAZING. I got it as a gift for my mom, and she loves it. It was perfect.

⭐⭐⭐⭐⭐

Maxine
Thank you so much! Our portrait of Violet the princess is quite remarkable, and captured her spirit perfectly! thank you all!

⭐⭐⭐⭐⭐

Jordan Brennan
The details were amazing! We were extremely happy with the portrait. A friend of mine had one done from a different place and it wasn't near as good as yours. Thank you

⭐⭐⭐⭐⭐

Cynthia W.
Amazing. Got this for my parents dog who passed away. They were brought to tears with how good he came out. High quality and truly captured his spirit. From the ordering process, working with customer service and shipping times everything was very smooth and professional. There are many vendors in this space but I know they do not meet the high quality and detail that Royal Pet Pawtrait did.
Thank you so much!

⭐⭐⭐⭐⭐

Alex R.
So amazing! I got to show everyone at work on a zoom call. One of the coworkers laughed so hard she cried. Best money I have ever spent.

⭐⭐⭐⭐⭐

Selina
The Pawtrait was everything and more! It was a gift for a friend, she absolutely loved it! She even cried a few tears!

⭐⭐⭐⭐⭐

Cheryl C.
Another great experience ordering from Royal Pet Pawrtrait! Great print quality and the team helped satisfy my order to a T. I have been sending everyone I've showed your way so hopefully you continue to be very busy! :)

⭐⭐⭐⭐⭐

KaJay R.
Great customer service - answered all my questions promptly and courteously, I received beautiful pictures of my pets and couldn't be happier!! I highly recommend if you are looking to immortalize your pet in a stunning unique way

⭐⭐⭐⭐⭐

Vicki S.